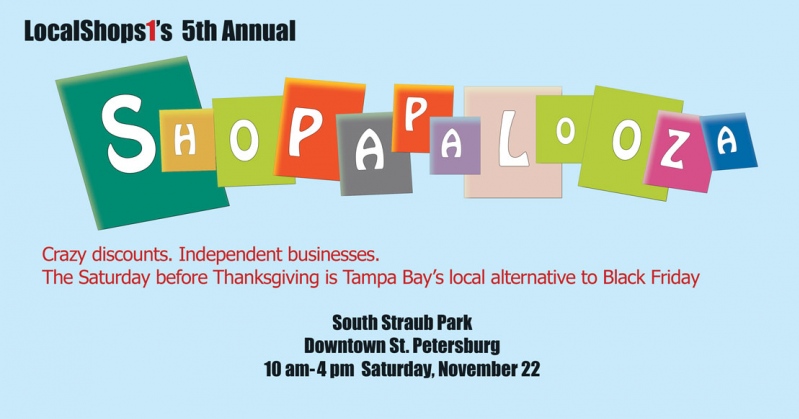 Blog

Get the scoop: Check out photos and blogs from past years

Reach 5,000+ shoppers and 300+ businesses.

Shoppers

Prizes and swag galore!
Admission? FREE.
Our biggest event of the year brings together over 120 locally owned shops, restaurants, art galleries, service providers, and community organizations offering great shopping discounts! No tickets necessary, but register in advance to be entered in a special raffle! Admission is FREE!
This family-friendly event features:

- Giveaways & raffles
- Retail and Art Vendors, plus Community Organizations
- Children's Area
- Food & Entertainment
- Gift-Wrapping Station
This event was designed to provide equal opportunity for enjoyment by all participants. If you would like to request any particular aids or services pursuant to disability laws, please contact the event planner at (727) 686-3565 or City of St Petersburg Community Affairs Division at (727) 893-7345 or (727) 892-5259 TDD/TTY"
Vendor Information:
An extra $50 late fee applies after 11/1/2014
Current artist & business members get $100 off the following prices:
Business & artist vendors: $200 for 10 by 10 spot
Food vendors: $250 for 10 by 20 spot
Non-profits: $75 for 10 by 10 spot

Full price rate includes complimentary 1-year LocalShops1 membership.
Survey of last year's vendors: (Ratings on a scale from 1-10)

Event marketing and promotion: 8.3
Attendance: 7.8
Organization: 8.5
87% called event above average
71% said they will definitely return, another 16% said maybe

Target Audience: 4,000 to 7,000 shoppers and 120 businesses at the event; 30,000+ fans on email and social media; thousands more through print and online marketing; and a VIP party at American Stage Theatre Co.


When & Where: 10 am to 4 pm Saturday, Nov. 22, at South Straub Park in downtown St. Petersburg. This waterfront park faces Beach Drive, one of the city's most popular streets, and is just steps away from luxury condos, boutique bed and breakfasts and major hotels, including the Vinoy.

FAQ:

I don't usually do vendor events. Will a booth at Shopapalooza help my business?
Yes! This is your chance to grab consumers' attention before they get trapped in the Big Box stores on Black Friday. Both more effective and much less expensive than a traditional advertisement or Google ad during the holiday season, Shopapalooza helps you connect with thousands of shoppers and hundreds of businesses.

How is Shopapalooza different than other outdoor festivals?
Shopapalooza kicks off the holiday shopping season with a festive and distinctive theme, feel and purpose. It's an outdoor mall of locally-owned stores, service providers and restaurants; plus entertainment, prizes and huge discounts.


Can Shopapalooza help promote my business, even if I can't be there?
Yes! There are several options to get your name out at our VIP party, banners and websites, through social media and with on-stage promotions. Contact sales@localshops1.com.

Who is LocalShops1?

We're a coalition of locally owned businesses, artists, nonprofits and community-minded shoppers. Some of our other high-profile events this year include Top Local Chef, Raise a Toast to the Pier and the Best in Biz: Small Business Awards.

How do I sign up?!
Sign up online or email us for more information!
Shopapalooza 2014 -- Saturday, Nov. 22 -- South Straub Park -- St. Petersburg
Crazy discounts. Independent Businesses. The Saturday before Thanksgiving is Tampa Bay's Local Alternative to Black Friday.
Shopapalooza is free to attend and features food, music, entertainment, prizes, surprises, and more than 100 awesome shops, all locally owned and operated.